Characteristic of Naturalmamma menstrual cup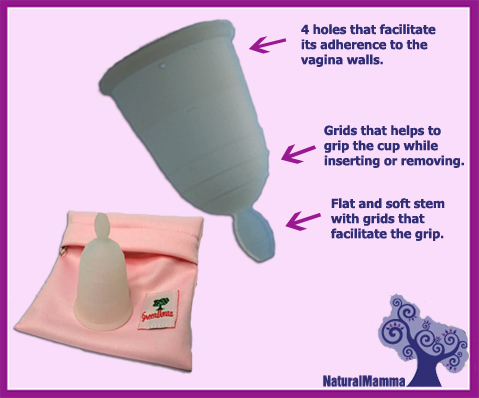 Naturalmamma menstrual cup is the first menstrual cup of patented Italian design available in unique size. It has been studied and developed to be worn by all women whithout distinguish if you have given birth naturally or not. Naturalmamma is one of the menstrual cup that offers more capacity available in the market.
Naturalmamma cup is made of certified non-allergic silicone. Silicone is a biocompatible material, that is to say that is accepted by the human body without causing avverse. Silicone is characterized to be a non-toxic, odorless and durable material and can be sterilized by various methods due to its high resistance to extreme temperatures. The Naturalmamma cup is certified sgs,IISG microbiological safe. The cup is ethically produced in China, which gives the opportunity of buy a cup made of a quality material, as is the silicon, at an affordable price.
The Naturalmamma menstrual cup is provided on its PUL waterproof pouch(see picture below) The Naturalmamma company has joined the Italian campaign "Let's Unpack us" to safeguard the environment and also in this way you do not pay for a package that you should throw away and for this reason Naturalmamma's packaging is very simple.
Characteristic of Naturalmamma menstrual cup: Naturalmamma cup does not have written o inside nor outside which makes it easy to clean. Naturalmamma cup also has three lines in the vicinity of the base which facilitates its grip while inserting or taking it out. Also these lines are helpful if you have shortened the stem. Since the stem is flat and silicon is very soft it is easy to cut it off with a pair of scissors, pay attention however to avoid damaging the cup. Naturalmamma menstrual cup also has some internal guidelines to control the flow.
Naturalmamma cup size and capacity :
| | | | | | |
| --- | --- | --- | --- | --- | --- |
| NATURALMAMMA | CAPACITY TO HOLES | CAPACITY TO RIM | LENGTH | + STEM | DIAMETER |
| Unique size | 27 ml | 33 ml | 56 mm | 15 mm | 44 mm |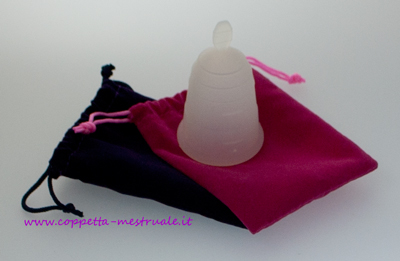 One of the best methods to sterilize silicone is through boiling water in a small saucepan or by microwave in a container. Make sure you put enough water in the pot / container so that the menstrual cup does not touch the bottom.If you are using the microwave to do the sterilization please note that lid must not be closed in order to let get out the steam. Take care in handling the hot water to prevent burning your fingers.
During the cycle is recommended to wash the cup with a natural and mild soap with a low Ph. Always check the holes of the menstrual cup. If they are blocked you can clean them by putting the cup in hot water and also with the help of a toothpick. ( We do not recommend to use a needle for this purpose as you may accidentally damage the cup).
Shipping in Italy Eur 6,00 with courrier. For other countries kindly check shipping costs that are available on the cart(Registered mail).
For purchase of 4 or more menstrual cups shipping is free!