Gaia cup
Gaia cup characteristics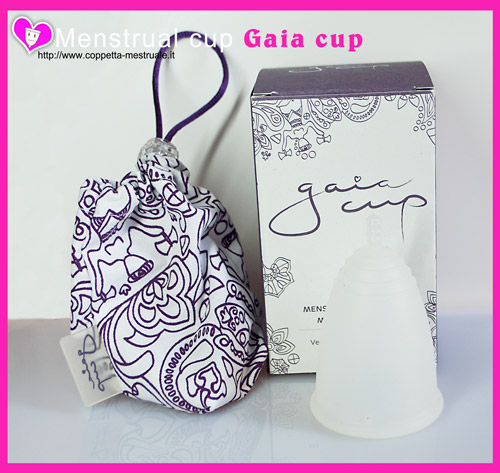 Gaia cup is produced in Czech Republic in medical silicone ELASTOSIL®, a very high quality silicone ,reliable and ed eco-friendly. Check here the BIOCOMPATIBILITY CERTIFICATION of Wacker ELASTOSIL® silicone
Gaiacup has following advantages:

• Latex, BPA and phthalates free
• Mat
• Smooth surface
• Its shape is optimal and a high quality material
• 6 large holes for easy cleaning positioned at the top that creates a very good seal and at the same time provide a good the capacity to the cup.
• 4 knurls in the base and along the stem to grab it well,even in the absence of the stem.
Gaiacup is availabel in 2 sizes.
Further information about Gaiacup : Gaiacup is transparent, mat and of elastic silicone. Inside the cup on upper and lowest part you will find Gaia logo. (they are not so in relief so it will not interfere with the cleaning ).Gaiacup is soft ans has a very smooth shape with no protrusions. Its silicone is distribuited evenly along its body. In the base there are 4 circles in relief, which allow you to grasp it firmly even if you cut the entire stem. You can pinch its base without problems at the time of extraction. If you look Gaiacup S and L they seem very similar, but S size is different as it is softer than L size ( around 15% softer). The edge ( upper ring) of S size is thinner and shorter than L size. When you fold S size in "U" shape you can have it folded without resistance on your hand. Gaia cup is provided with a very beautiful cotton bag (could be in Purple or Yellow lemon fantasy) that can be closed with a sliding button. Look at the comparartive pictures below.
WHO SHOULD BUY GAIA CUP
Women that are looking for a soft menstrual cup with a very good capacity and produced with rigorous standard of European Community. Gaia cup is longer compared to other cups, so it will be suitable for women witha a high cervix.
Size and capacity of Gaia cup:
The capacity showed on the chart is the one that manufacturer has pointed out as used capacity. Below you will find the result of our measure done with water and a dispenser in ml. Being the S size softer we do not recommend to women with very tonic pelvic muscles.
| | | | | |
| --- | --- | --- | --- | --- |
| GAIA CUP | CAPACITY | LENGTH | + STEM | DIAMETER |
| S SIZE | *21 ml | 55 mm | 10 mm | 44 mm |
| L SIZE | *30 ml | 56 mm | 10 mm | 45 mm |
The capacity that menstrual cups provide can vary from women to women, as it depens how crushed they remain and if its position is under the cervix or part of the cervix gets in the cup. Gaia cup is a long menstrual cup and we measured its capacity with mater in order to let you compare and have an idea with information provided for other cups measured with same method. - S size: 30 ml up to holes and 34 ml up to edge. - L size: 31 ml up to holes and 35 ml up to edge.
WHICH SIZE SHALL I CHOOSE?
- S Size(small) : for women up to 25 years old, with normal flow or that have noth given birth naturally. - L Size(large) : for women over 25 years old or with heavy flow or have given birth naturally.
GAIACUP MENSTRUAL CUP FEATURES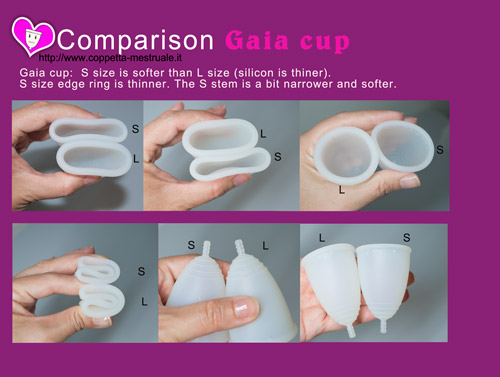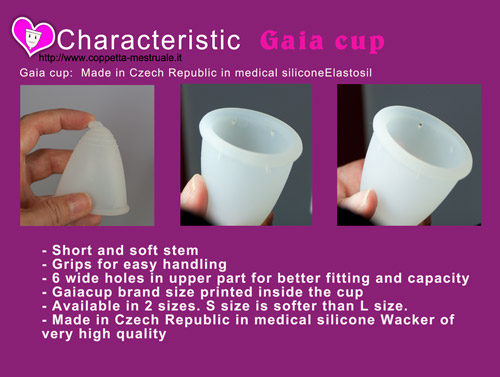 World wide delivery with Regstered mail.