Buy FemmyCycle
We have all Femmycycle models!. Do not miss to our our special kit including Femmycycle and lovely pads.
FemmyCycle characteristics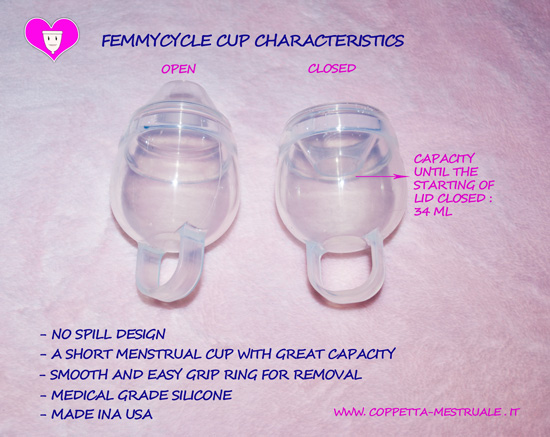 Femmycycle is the menstrual cup that has been designed, developed and produced 100% in The United States of America. It is made of medical grade silicon. FemmyCycle is totally different from other traditonal menstrual cups because it has an unique No- spill design with a lid. In adittion it is very intuitive, once it has been placed in the vagina gets opened authomatically. Femmycycle doesn't have holes around the rim and you do not have to make any special proceedings to make it open. FemmyCycle is designed to stay partially collapsed inside your body and only expand upon removal. This creates a mild suction that cleanly draws out flow. Because it remains partially collapsed, it doesn't make a tight seal and can be removed painlessly.
FemmyCycle has following advantages:
• Latex and Phthalates free
• Absence of odor
• Transparent
• Very easy to use
• Comfortable and smooth ring for removing the cup
• Do not create the seal effect due to absence of holes, to remove just need to pull the ring.
• Designed to offer maximum capacity and comfort. Soft and of intuitive opening.
Femmycycle is the menstrual cup suitable for women that are looking for a cup of easy usage. You can be assured that while you are removing its content won't spill. Femmycycle capacity offers more hours of autonomy. Very useful for women with a heavy flow or also for women that can not use long cups, but anyway need more capacity. In addition, the desing of Femmycycle (wider at the bottom) will be perfect for ladies with relaxed pelvic floor after 2/3 babies born naturally as it will keep opened in place and will not slide getting off under any stress.

- Femmycycle comes in single version or twin cup pack. The second cup will be very useful if you need to change while you are out and need a quick change. To empty Femmycycle you have to lift the cover by placing your finger and pulling it up. Empty it into the toilet, rinse it under water and put it back into the Femmy bag.
FemmyCycle mestrual cup characteristics : It has no markings and is totally smooth. Easy to clean. The soft, elastic and resistant ring allows to remove it even with the help of two fingers. Il Its silicone is very soft and adapts to our anatomy. It works in a different way, it has no holes so there is no seal to break at time of removal. Femmycyle is designed not to unfold completely during use. It opens to full size only when removed, so one size conforms to each woman's body. Femmycycle has not intrusive protrusions that some women perceive when inserting or removing the cups and the rim diameter is like a "S" size of traditional cups, so it is not felt at all. Its unique size can be used for almost all ages. We recommend it for girls from 22/23 years. FemmyCycle is one of the shortest menstrual cups available at 2.5 inches, it cannot be used by women with low cervices because it will rest alongside the cervix and not collect the menstrual flow. If the distance between your vaginal opening and your cervix is shorter than 2.5 inches (6.35 cm) you will not be able to use the FemmyCycle.
Size and capacity of Femmycycle menstrual cup:
| | | | | |
| --- | --- | --- | --- | --- |
| FemmyCycle | CAPACITY UNTIL LID | CUP LENGTH/HEIGHT | + RING | DIMETER INTERNAL RIM |
| UNIQUE SIZE | 34 ml | 45 mm x 45 mm | 20 mm | 35 mm |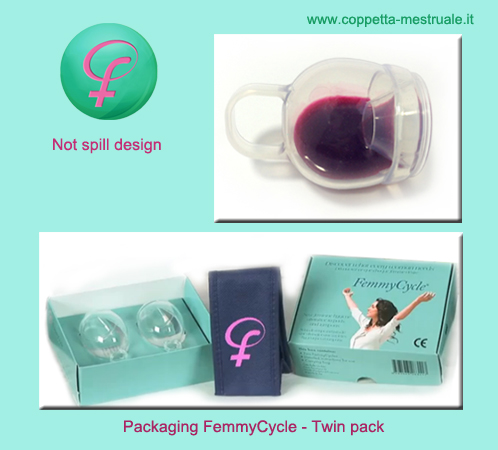 HERE YOU CAN READ THE FEMMYCYCLE INSTRUCTIONS FOR USE
- Femmycycle has to be inserted folding it in "U" or "C" shape, following as a guide for folding the notch that is on the rim. Hold the folded FemmyCycle rim firmly with index finger and thumb, separate your labia with other hand and insert it very slowly. Push it backward and stop pushing once the removal ring enters your vagina.Once the FemmyCycle is inserted in the lower part of the vagina, the rim will open enough to collect your menstrual flow.
FREQUENTLY ASKED QUESTIONS ABOUT FEMMYCYCLE
Is Femmycycle easy to clean? How can I sterilize it?
Yes, it is easy to clean. Just empty the content into the toilet and clean it with liquid soap and warm water, then rinse thoroughly. You should sterilize the FemmyCycle twice a month, before and after your period. The manufacturer recommend to soak it in 10% white vinegar and 90% water for 5 minutes, then rinse thoroughly. Femmycycle is made of medical grade silicone, so you can also sterilize it in boiling water or other methods used to sterilize this material.
Did women who used the FemmyCycle overnight experience any leakage?
FemmyCycle is safe and effective for overnight use and as for other cups it protects your lingerie, pajamas and sheets while you sleep!. So far, none of the women who used the FemmyCycle during eight hours of sleep reported leakage.
Do blood clots obstruct the opening of the FemmyCycle lid?
No, the blood in its fluid state can get into the hole of the lid even if it is folded. Soft blood clots get squeezed into the opening of the lid by the effect of vacuum inside the cup. Cleaning is very easy even with big clots.
The shipping cost appears on the shopping cart after having selected your country. We ship worldwide with Italian registered mail.