Buy Eco-cup menstrual cup
Eco-cup characteristics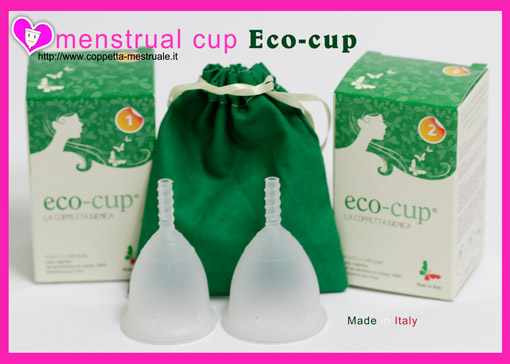 Eco-cup is a reusable menstrual cup hygienic, easy to use, manufactured in Italy in 100% soft medical grade silicone, 100% hypoallergenic. Eco-cup is produced in strict accordance with European standards UNI EN ISO10993-1: 2010 and USP Class VI.
Eco-cup has following advantages:

• Latex-free, BPA and phthalates free
• Silicone with satin and matte appearance
• It has 5 small holes positiones in a vertical way, creating an excellent vacuum and at the same time offer capacity to the cup
• Two circles in the base to facilitate the extraction, even in the absence of the stem
• Stem easily adaptable to the physical conformation. With small circles well defined to facilitate gripping.
• Silicone soft medium stiffness that offers comfort and easy opening
Eco-cup is available in two sizes. The two sizes have the same length, but different diameters.
Further information about menstrual cup Eco-Cup:
>Eco-cup is produced in smooth silicone, its softness is evenly distributed   all over his body. The two circles in the base and the inscription "Made in Italy" engraved outside between the two circles allow you to grab it during removal. The 5 small holes in the top offer great capacity even if it is a short cup. Inside Eco-cup is smooth. Eco-cup is a short cup (to be considered more in size 2), and this makes it ideal for women with low cervix. The softness of Eco-cup is considered of medium average, offering comfort and fast opening. The stem is like cylinder but digged ( 4mm from the base of the stem is full, then digged). Eco-cup is provided with a green bag in cotton in a box with instructions for its use in Italian, English and Spanish.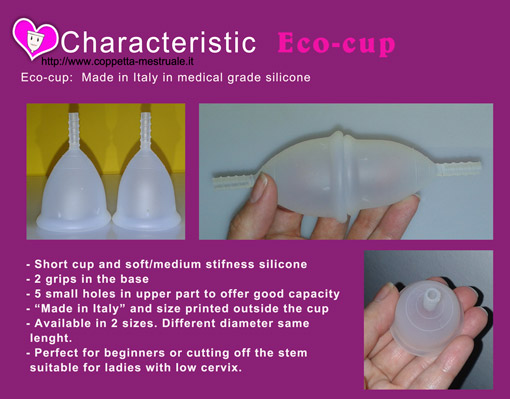 Size and capacity of the menstrual cup Eco-cup:
The capacity that menstrual cups provide can vary from women to women, as it depens how crushed they remain and if its position is under the cervix or part of the cervix gets in the cup.Eco-cup is a cup to be considered of medium stiffness, and we measured the capacity using water and syringe so that you can steer if you compare it with the capacity of other cups measured with the same method. Remarkably, the size and location of holes have allowed us to measure the capacity to the edge, without the cup began to lose water over the holes.
-Size 1: 17 ml up to the holes and 21 ml up to the edge. -Size 2: 20 ml up to the holes and 28 ml up to the edge.
| | | | | |
| --- | --- | --- | --- | --- |
| ECO-CUP | CAPACITY UP TO HOLES | CUP LENGTH | + STEM | DIAMETER |
| SIZE 1 | 17 ml | 45 mm | 22 mm | 42,5 mm |
| SIZE 2 | 20 ml | 45 mm | 22 mm | 46 mm |
WHICH SIZE SHALL I CHOOSE?
-Size 1 (small) : women up to 30 years who have not had children with natural childbirth.
-Size 2(large) : for women over 30 years or with heavy menstrual flow or who have had children with natural childbirth.
PACKAGING ECO-CUP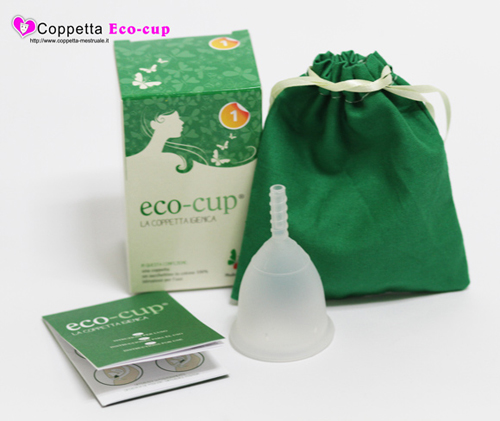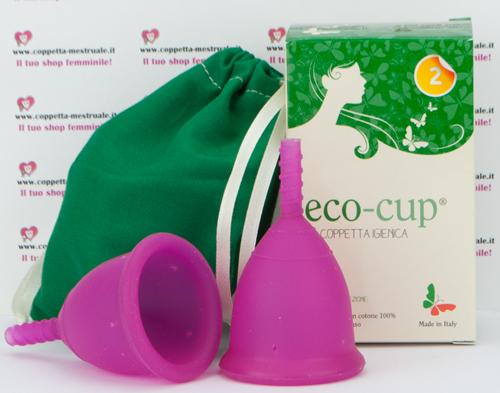 Worldwide delivery with Italian registered mail.